STREMA® offers high capacities with little space for pallet wrapper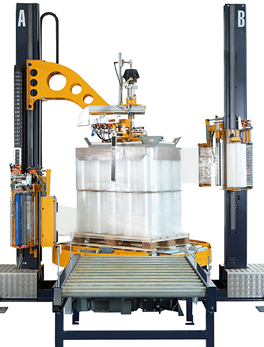 A common problem in a production environment. Certainly when it comes to existing construction. STREMA® recognises this problem and has come up with a solution. A turntable wrapper with two masts, rotation-driven hold down plate with film clamp. And two film carriages with twice as much film on board.
Operation
Pallet arrives on the turntable of the wrapper.
Turntable starts rotating, film carriage A starts at the bottom, film carriage B starts at the top.
After sufficient wrapping, film carriage A stops at the top, film carriage B at the bottom.
Both cutting and sealing units come in and cut and seal the film correctly.
Pallet is wrapped and rolls out of the wrapper.
Two pallets on top of each other can also be wrapped separately.
Advantages compared to an arm or ring winder
Smaller footprint
Double the amount of film on board.
At 15 windings only 7.5 turns of the turntable are needed.
High capacity, up to 90 pallets/hour possible.